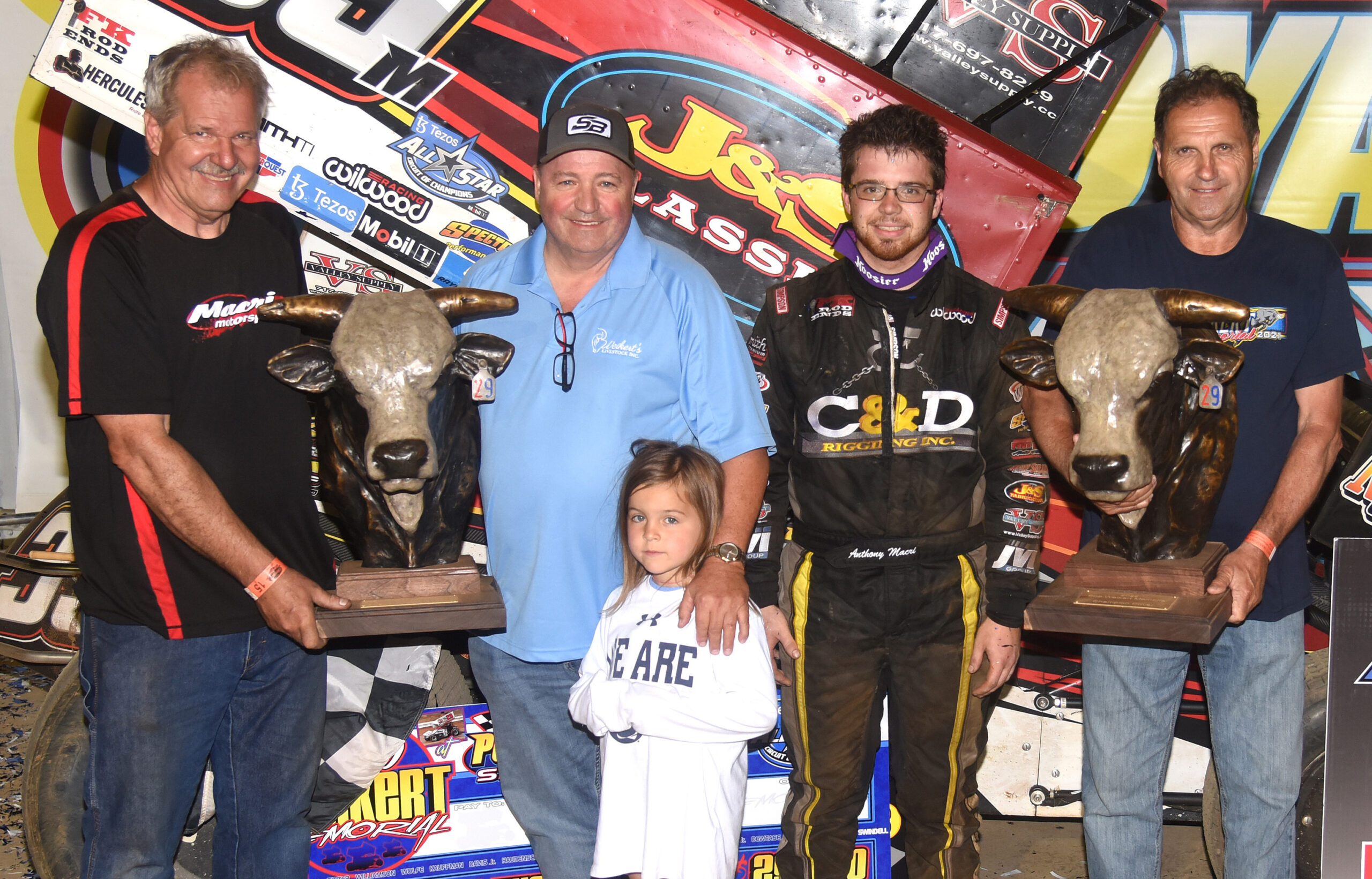 Oaks, PA —  Successful 410 Sprint Car crew chief Jim Shuttlesworth and his car chief son Chris will be sharing their insight and knowledge to fellow racers as part of a Saturday Free Seminar schedule at the Pioneer Pole Buildings Motorsports Race Car & Trade Show. The one hour seminar is scheduled from 2 to 3 PM in Room 1 at the Greater Philadelphia Expo Center.
After Jim Shuttlesworth ended his own driving career, he became a respected 410 Sprint Car crew chief with a knack of uplifting a young driver to much higher levels in his career.
Chad Layton, Brock Zearfoss, Lucas Wolfe and most recently Anthony Macri who won a United States best 23 Sprint Car feature events in 2022.  Late last season, Jim left the Macri No. 39 team to join forces with car-owner John Stehman to form Shuttlesworth-Stehman Racing.
Shuttlesorth finished the past season with young driver Devon Borden behind the wheel and his influence has already been seen. With an off season to build up the new team, more success is expected this season.
Jim's son Chris, who learned the trade well from his father, left the Macri team as well to join his father. They'll be working together for the informative seminar offering advice from the Sprint Car beginner to the top level of the sport… what the crew chief should know as well as driver coaching from two of the best in the sport. Bring your concerns and questions!
A new larger Seminar Room 1 located near the front entrance will be utilized this year in addition to a second location. A complete list of seminars and times are listed below.
A complete seminar and event schedule will be released shortly at motorsportstradeshow.com and the show Facebook page. Other seminars include Behrent's Chuck Schmick on Four-Coil Dirt Modified suspensions, Fred Turza on Race Engines, Sam Wescott and Joe Toth on Sportsman Modified maintaince and set-up, Roy Anderson on Hobby Racing and photographer Bob Yurko on taking photos at the races.
Each seminar has time built for a question and answer session at the end of each presentation. Exact times and seminar room assignments are to be determined.
The show is open on Friday, January 20th from 2 to 9PM. Saturday, January 21st hours are 11 to 8 PM.  The show box office opens daily one hour prior before the show. A special show area that includes the Billy Pauch Tribute is open for pre-show viewing.
Hotel rooms and other show information is available at motorsportstradeshow.com or by calling the show office at 609-888-3618
Limited exhibit space at the event remains. Contact show manager Dan Sammons at 609-888-3618 or danny@aarn.com.