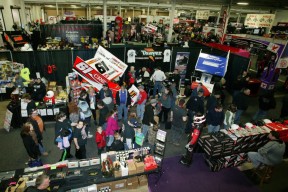 Shelby Harper a 22 year old beauty from Milford, N.J, who is a bodybuilder, is a hair stylist and races 600cc Micro Sprints, was named Ms. Motorsports 2015 Saturday night at the 30th Annual Pioneer Pole Buildings Motorsports 2015 Presented by Sunoco Race Fuels Distributed by Insinger Performance Race Car & Trade Show held at the Greater Philadelphia Expo Center in Oaks, Pa Friday through Sunday.
Shelby pledged to be an active Ms. Motorsports. "This year is the opportunity of a lifetime. I go to the races all the time and to represent the Motorsports Show will be a great honor."
Dylanne Hodge, 21 of Oriskany Falls, N.Y. was first runner-up in the pageant and becomes Ms. Area Auto Racing News for 2005.
A 'Fans Choice' Swimsuit competition, distinct from the overall contest, was won by Cait Ross.
The pageant was presented by Oliver Construction Enterprises
In pre pageant ceremonies, Keith Rocco, Matt Sheppard, Ricky Elliot, Dale Blaney and Tyler Walton were honored by Area Auto Racing News as the Northeast Winningest Drivers in 2014
Rocco, with 31 wins, was the overall Winningest Driver. Rocco also won the most Asphalt Modified and most Asphalt Late Model features last season. Sheppard claimed the greatest number of Dirt Modified checkered flags, Elliott was the most prolific Dirt Late Model winner Blaney top open cockpit victor and Walton claimed the greatest number of 600cc Micro Sprint tallies.
Rocco, Elliott and Walton were on stage to receive their laurels from Cassi Pinder, Ms. Motorsports 2014. Sheppard and Blaney were unable to be present to receive their awards though Sheppard sent a message of acceptance.
On Sunday, Jayden Gursky, 11, and Hannah Kormann, 4, were named Little Ms. Motorsports and Tiny Ms. Motorsports.
Best Booth Awards were received by Gary Mondschein for Best Open Cockpit display, Mike Geroni for Best Appearing Drag Car, Raymond Boissoneau for Best Appearing Vintage Open Cockpit Car, Kutztown Action Track USA for Best Speedway or Club display, Lehigh Valley Quarter Midget Racing Association for Best Quarter Midget Display, Tri State Racing Memorabilia for Best Vintage Display, Teo Pro Cars for Best Commercial Display, Guy Germano's 4 Star Lettering Modified for Best Appearing Modified, Ray Evernham's restored Jerry Cook Modified for Best Appearing Vintage Stock Car and Kevin Nouse for Best Appearing Open Cockpit car. More than 200 race cars representing all forms of the sport were on display.
Ed Whitehouse, a loyal employee of Len Sammons Motorsports Productions who was present at each of the 30 prior Motorsports Shows, was presented the Joey Pratt Award Of Excellence. The award has been presented for the past several years in honor of the late Joe Pratt, who served as Show Manager for many years prior to his passing.
Andy Bachetti won an afternoon electric indoor go kart celebrity race run on the new-for-2015 oval kart track.
The 2015 PPB Motorsports Racecar & Trade Show completed its 30th annual presentation on Sunday.
The 2016 PPB Motorsports Racecar & Trade Show is set for January 9, 10, 11, 2016.