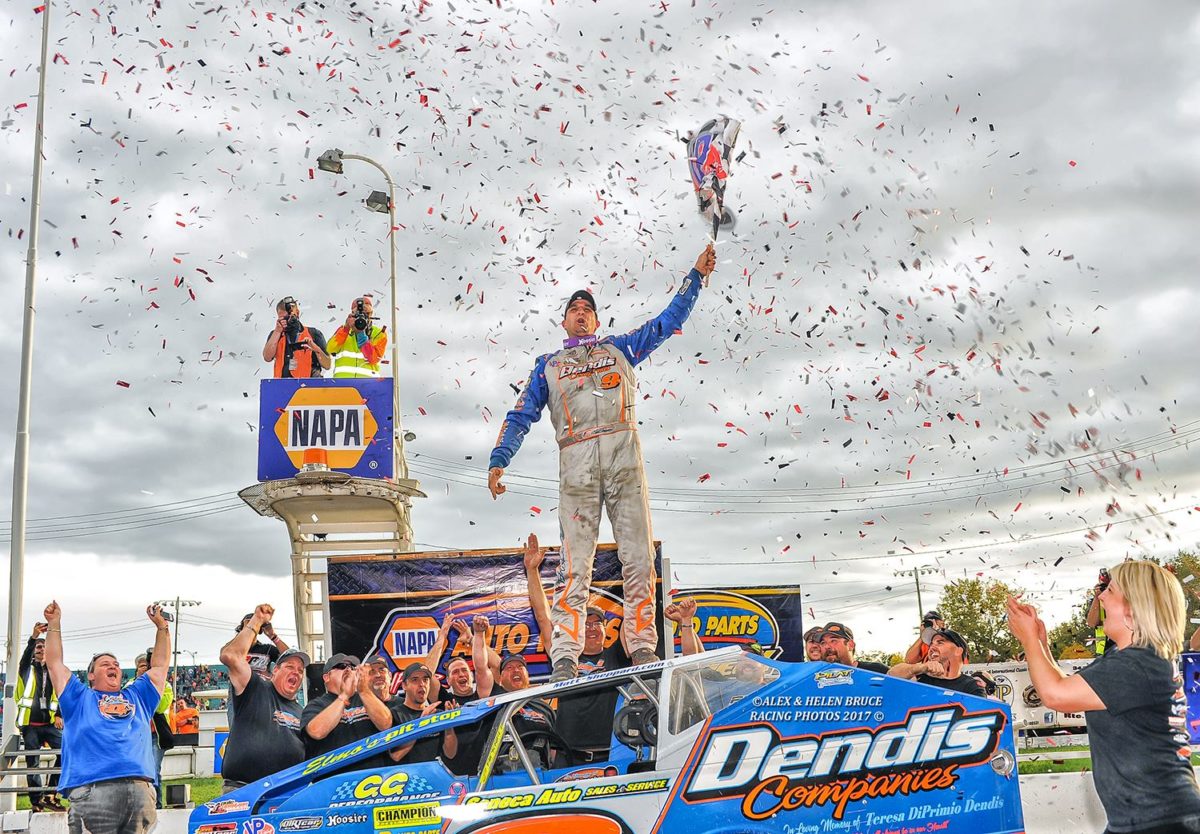 OAKS, PA January 5, 2018 . . . Waterloo, N.Y.'s Matt Sheppard will be honored by national trade publication Area Auto Racing News as the top 2017 Northeast feature race winner at Pioneer Pole Buildings Motorsports 2018 presented by Sunoco and fueled by Insinger Performance. Sheppard, who won 41 dirt Modified feature events will be in the spotlight on that Saturday of the show held at the Greater Philadelphia Expo Center in Oaks, Pa., on January 19-21.
On his way to the AARN's top honors, Sheppard became the first driver since Brett Hearn to win more than 40 features in a season. Hearn, the veteran driver from Sussex, N.J., won 42 features in 2002 and reached 900 career victories this past season.
Sheppard was also the top AARN winner in 2016 when he won 29 times. For his 2017 accomplishment, he will receive a beautiful painting by Ken Frantz, a plaque for winning the most in the dirt Modified division and $700.
Sheppard and other divisional top 2017 winners will be honored at the stage prior to the Oliver Construction Ms. Motorsports competition. Others receiving divisional awards are David Gravel (Open-Cockpit, 20 wins) Matt Hirschman (Asphalt Modifieds, 17 wins), Mike Sweeney (Asphalt Late Model, 10 wins), Max Blair (dirt Late Model, 23 wins) and Tyler Walton (600 Micro-Sprints, 10 wins).
Despite living in Watertown, Ct., an area rich in asphalt racing, David Gravel has become a super star in dirt Sprint Car competition. In 2017 he won 20 features, including 18 on the World of Outlaws tour where he finished third in points. At the Motorsports Show, Gravel's CJB Motorsports Muddy No. 5 team will have both their new car and its hauler on display for the fans.
Hirschman, a second-generation racer from Northampton, Pa. won 17 feature events last year despite racing less. Like Sheppard, he won over 50% of the asphalt Modified feature races he entered.
For the second straight year Max Blair and Mike Sweeney topped the dirt and asphalt Late Model division respectively. Blair was a big winner at many Western Pa. dirt tracks. Sweeney dominated at his home track, Pa.'s Mahoning Valley Speedway, where he won the championship.
Tyler Walton of Mifflintown, Pa. was a big winner in 600cc Micro-Sprint competition for the second straight year as well.
All the award winners will participate in an autograph session signing a special colored poster available free only at the show to fans at the AARN booth display from 5 to 6 p.m. on Saturday.
Going back to 1978 when Area Auto Racing News started keeping track of the most wins in a Northeast season, the record is 52 jointly held by three drivers. Former NASCAR star Geoff Bodine won 52 mains in 1978, NASCAR Hall of Famer Richie Evans did so in 1979 and Sprint Car racer Doug Wolfgang tied the mark in 1985 while battling Central Pa. competition. There has not been another driver to reach the 50 win mark since.
The most wins recorded since 1978 by a dirt Modified racer such as Sheppard was 48 by Billy Pauch Sr. in 1990. Bob McCreadie took 47 wins in 1994.
Also headlining the show on Saturday, January 20, will be three time NASCAR Cup Series champion Tony Stewart who is now turning his racing efforts to the Sprint Cars. Former NASCAR Cup Series crew chief and FOX TV personality Larry MacReynolds will also be part of the Saturday activities along with 20-time World of Outlaws champion Steve "King" Kinser.
More than 250 racing vehicles and booth displays will make up the three day event that fills 250,000 square feet of show space.
The show opens on Friday, January 19 at 2 p.m. and closes at 9. Doors open on Saturday and Sunday at 11 a.m. The box office and D-Hall exhibit area open one hour earlier each day.
Check out www.motorsportstradeshow.com or call 609-888-3618 for further information.