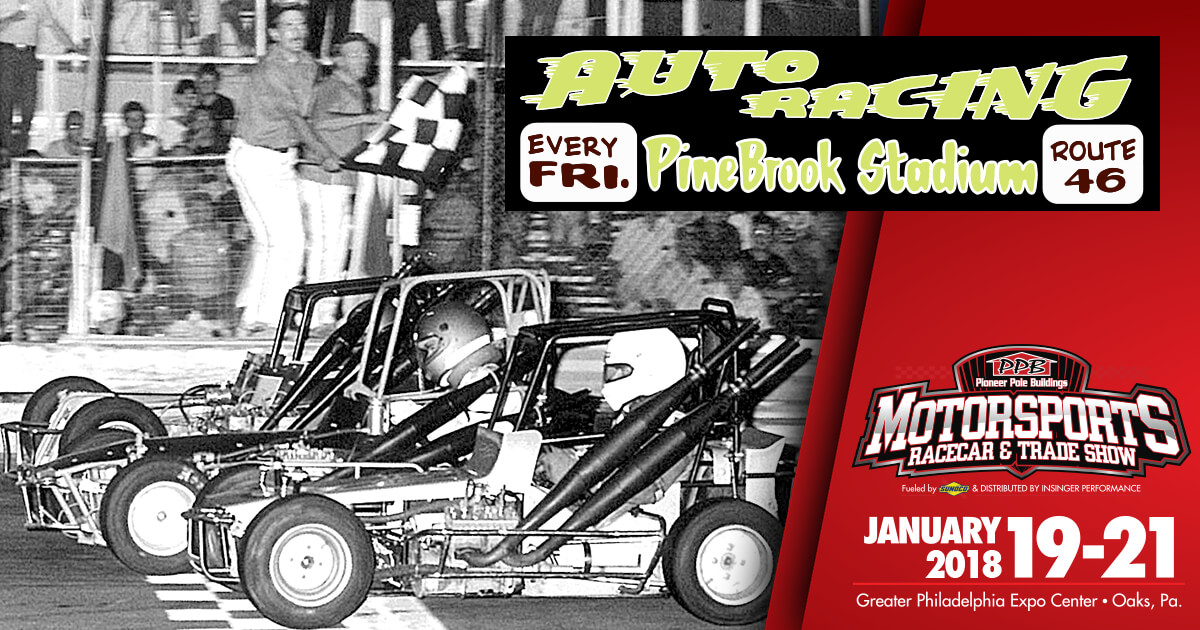 Oaks, PA — Pine Brook Speedway, the purpose-built race track in northern New Jersey where drivers ranging from World Champion Mario Andretti and NASCAR Hall of Fame member Ray Evernham to current stars "Liquid Lou" Cicconi and "Jersey Jet" Joey Payne cut their racing teeth, will be the focus of this year's speedway reunion during the Pioneer Pole Buildings Motorsports 2018 race car and trade show, presented by Sunoco and fueled by Insinger Performance at the Greater Philadephia Expo Center January 19-20-21.
Each year a different regional track from racing's past is highlighted at the show, and this year a special display dedicated to Pine Brook will be erected in Hall D of the spacious Expo Center, which will offer more than a quarter million square feet – some six acres – of racing related exhibits over the three day period.
Activities at the Pine Brook display will include interviews and autograph sessions with drivers who raced at the tight and highly-competitive speedway, and attractions will include a lineup of race cars representing the evolution of the machinery through the three decades that the track was in operation.
A special added attraction will be a live television production on Friday evening, January 19, where in a one-hour late-night talk-show format personalities from the track's history will tell their stories. Among those scheduled to appear on the stage in Hall E are Bob Dini, winner of the very first race at Pine Brook in 1962, brothers Drew and Noki Fornoro, prolific winners at the track through the years, Jack Duffy, who raced at Pine Brook in each of the track's 28 seasons, Lenny Boyd, a championship driver in TQs, Midgets, and Modifieds, and Johnny Coy, Jr., who raced at Pine Brook against both his father and his brothers.
Music and additional entertainment will be part of the show.
Pine Brook Speedway, originally named Pine Brook Stadium, opened in Montville Township, New Jersey, in 1962, having been built specifically for the open-cockpit TQ Midgets of the American TQ Midget Racing Association. The TQs raced weekly at Pine Brook through the track's closure at the end of the 1989 racing season, and Micro-Stocks were added to the weekly program in the early 80s.
Pine Brook Speedway, which sat on leased land, closed when the property was earmarked for retail development. A Home Depot occupies the site today.
In addition to the drivers already mentioned, a virtual Who's Who of racing in the northeast raced at Pine Brook, including early Modified stars Jim Hendrickson and Al DeAngelo, "The Old Master" Frankie Schneider, and Syracuse winner Gary Balough. Pine Brook racers who made it to Indianapolis include Andretti of course, but also Wally Dallenbach, Al Loquasto, Jerry Karl, and others.
But Pine Brook grew its own stars, too. Drivers such as TQ champions Doug Craig, Tony Romit, Larry Michaels, and Jack Bertling became household names in racing on the strength of their Pine Brook successes. Still others, including the innovative Jerry Wall and the outgoing Bob Cicconi, made their mark at Pine Brook before gaining the attention of race fans nationally.
Additional information concerning The Pioneer Pole Buildings Motorsports 2018 race car and trade show, presented by Sunoco and fueled by Insinger Performance at the Greater Philadephia Expo Center, can be found at https://motorsportstradeshow.com.