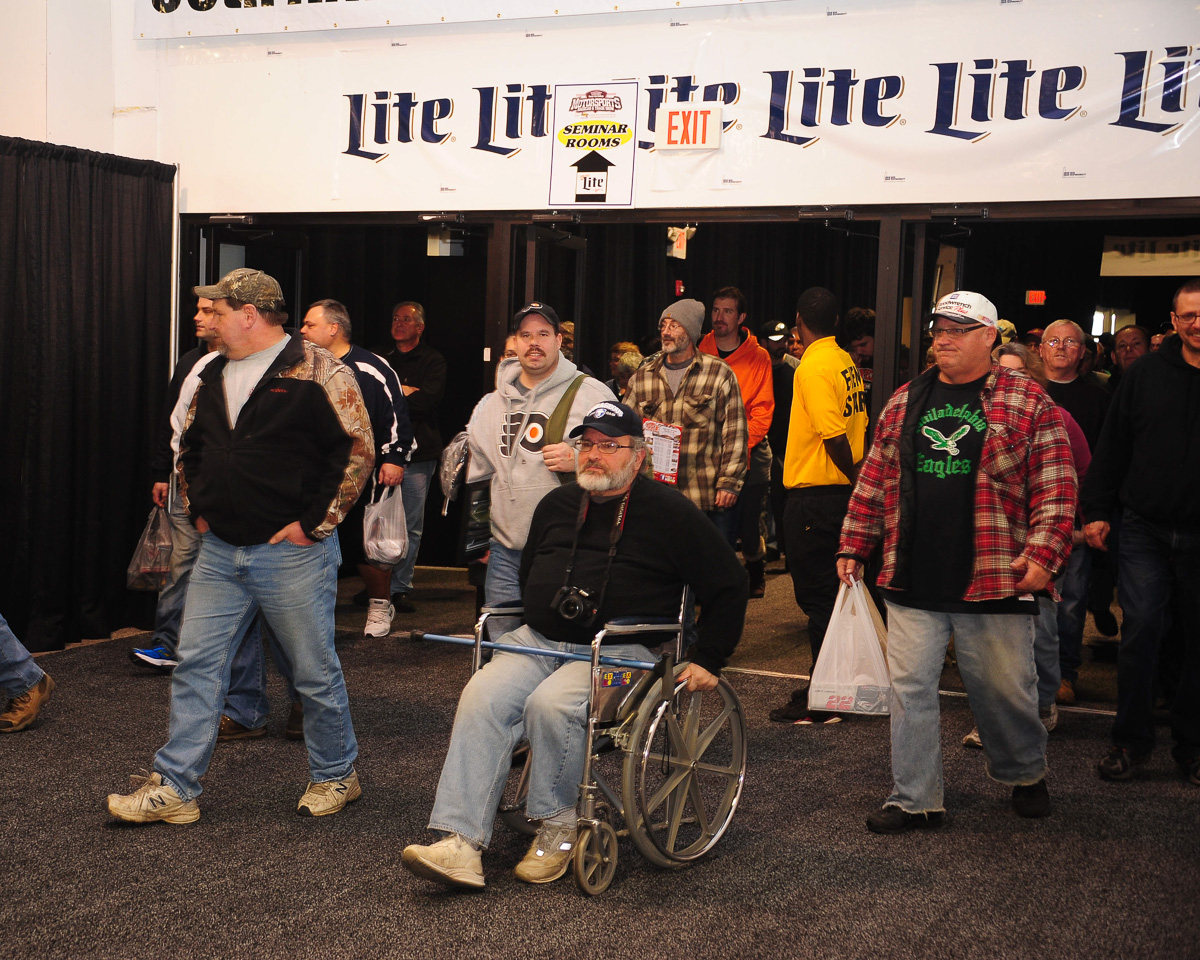 OAKS, PA January 19, 2018 . . . The doors swung open in the Greater Philadelphia Expo Center Friday afternoon at 2:00 PM on Friday, January 19 and by the end of day one, PPB Motorsports Race Car & Trade Show exhibitors reported excellent sales and plenty of mingling with either existing business contacts or new ones.
"We like to be right at the center of the show," commented Bridgeport Speedway promoter Brian Ramey. "And our location is right the middle of the show. All of our officials are here, a lot of our fans are here and we're meeting people who have never before been to our track."
At the Coastal 181 Booth, Lew Boyd and Cary Stratton had trouble keeping many of the books they were selling on their shelves.
"It's been crazy busy this afternoon," Boyd said. "I can't imagine what tomorrow is going to be like."
The main event of Day One was a racing themed rendition of 'The Tonight Show', featuring racing personalities Dino Oberto and Bob Marlow and produced by Gary Mondschein. The production, which featured drivers who had raced at the Pine Brook Speedway, played to an enthusiastic 'studio audience'.
Day Two of the Motorsports Show will begin at 11:00 AM with the doors opening. At 12:00 Noon, NASCAR Superstar Tony Stewart will be "in the house" to sign autographs until 2:00 PM. NASCAR Crew Chief and on-air personality Larry McReynolds will be making an autograph signing appearance on Saturday afternoon starting at 1:30 PM while Steve Kinser, the winningest 410 Sprint Car driver of all time, will sign autographs and meet and greet fans from 3:00 to 5:00 PM.
Saturday's events will reach its culmination with the crowning of Ms. Motorsports 2018, sponsored by Oliver Construction. Ms. Motorsports 2017, Taylor Albert, will crown her successor at the end of the competition.
The final day of Motorsports 2018, Sunday, Jan. 21, will be dedicated in large measure to the interests of the younger racing fans. Show doors swing open at 11:00 AM. Kids Big Wheel races, a tradition of the Motorsports Show, will be conducted on a special track while the Little Ms. Motorsports pageant will be held for 'future Ms. Motorsports contestants'. One of the first official duties of Ms. Motorsports 2018 will be the crowning of Little Ms. Motorsports.
The 34th Motorsports Show will continue until 4:00 PM Sunday afternoon.
Dates for the 35th Motorsports Show will be announced shortly.