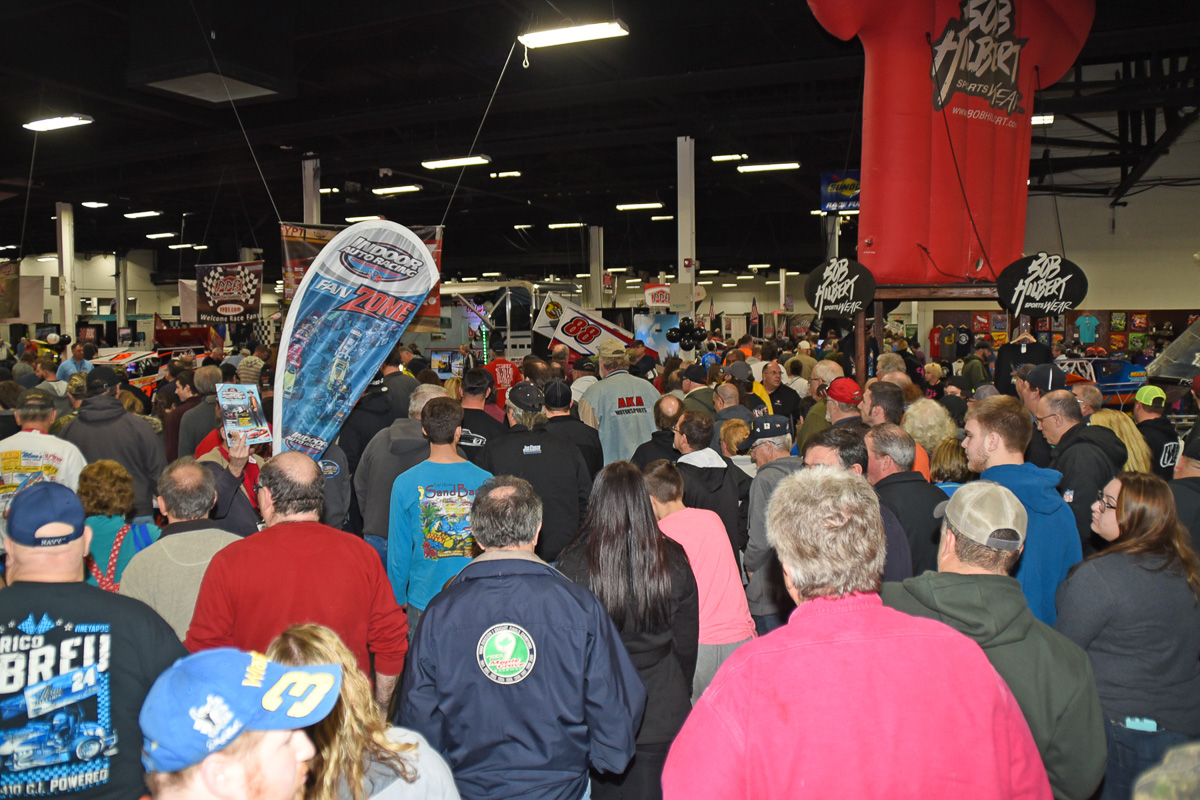 OAKS, PA January 21, 2018 . . . The 34th Motorsports Race Car & Trade Show ended its run Sunday at the Greater Philadelphia Expo Center in Oaks, Pa., with awards presentations, pageants and indoor Big Wheels racing for the sport's younger set.
Outstanding booth awards were presented in eight categories. Best Open Cockpit car was the Gotshall Automotive No. 1A Super Sportsman car in the BAPS Speedway booth, Best Modified was the No. 19 Dirt Modified of Jared Umbenhauer in the Thunder On The Hill display, Best Commercial Booth was the Teo Pro Car exhibit, and the Kutztown Fairgrounds Speedway was judged Best Race Track Or Club booth.
Best Quarter Midget Club booth was Blackbird Speedway's Space Odyssey themed display, Best Vintage Club Display was the Tri State Racing Memorabilia layout, Best Vintage Stock Car was the restoration of the mid-seventies No. 17 driven by the late Dick Tobias that fronted the Coastal 181 booth, and the Best Vintage Open Cockpit car was the 1963 Watson Roadster Indy Car owned by Ken Keiholz of Cincinnati, Oh.
Brynn Klotzbach, 10, of Phoenixville, Pa., was named Little Ms. Motorsports with Gracyn Buckwalter and Kaitlyn Bailey first and second runners-up. Twenty-nine girls competed.
Jayde Pratt, 6, of Sewell, N.J., was named Tiny Ms. Motorsports with Kayla Glass and Madison Michael first and second runners-up. Jayde is the daughter of Dirt Modified driver Richie Pratt, Jr. There were eleven contestants.
Sixty exuberant youngsters, over three different age categories, competed in the Big Wheel races that concluded the organized events at the show.
As the 4:00 PM closing hour approached, exhibitors continued to do brisk business. Bob Hilbert Sportswear's Motorsports 2018 event shirt inventory was at less than ten odd-sized pieces. The 2018 Motorsports Show program sold out early Sunday afternoon.
Dates for the 2019 Motorsports Show will be announced shortly.