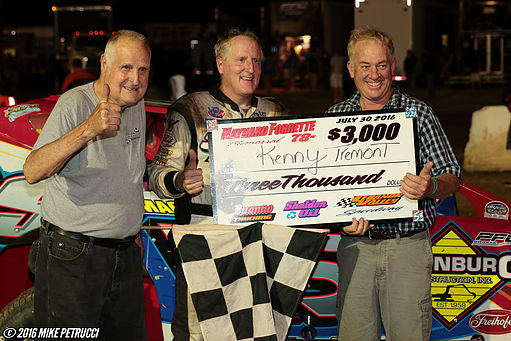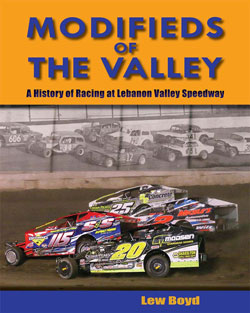 OAKS, PA January 12, 2019 . . . Dirt Motorsports Hall of Famers Ken Tremont Sr. and Jr. will be making an appearance on Saturday, January 19th at the 34th annual Pioneer Pole Buildings Motorsports 2019 Show Presented by Sunoco Race Fuels Distributed by Insinger. One of Tremont's famous No. 115 race cars will be on display during the entire show which runs January 18th – 20th at the Greater Philadelphia Expo Center in Oaks, Pa.
The Tremont's will appear from 1 to 3 PM at the Coastal 181 display signing copies of the brand-new book on N.Y.'s Lebanon Valley Speedway, "Modifieds Of the Valley."
The Tremonts, of Averill Park, NY, have campaigned Modifieds for decades and are unquestionably one of the most successful father/son teams in American racing history. Together they have an astounding 324 victories, and a slew of track and series championships.
And, as described in the book, they have accumulated more wins than anyone else on the steep and fast clay banking at Lebanon Valley.
Late last summer Ken Jr. was inducted into the Dirt Motorsports Hall of Fame, while Ken Sr. was inducted into the New England Auto Racing Hall of Fame in early November.
Danny Wood, president of the New York State Stock Car Association, will be coming along with the Tremonts, bringing the beautiful No. 115 Tremont Olsen that he campaigns on the vintage circuit.
Coastal 181 will be presenting its lineup of current and historic racing books and DVDs. Featured will be the Lebanon Valley book, an intensive dig into the rich history of the legendary track that has been so central to dirt tracking up and down the East Coast.
Other available publications will include "Hot Shoe," the Gary Balough memoir with Bones Bourcier; "TOBY" by Lew Boyd; "Modern Thunder," Dave Argabright's fabulous new USAC Sprint history, and titles on everyone from Wally Dallenbach to Kramer Williamson and Rags Carter.
See Coastal 181 at Motorsports booths No. 816/817, and visit them online at www.coastal181.com.