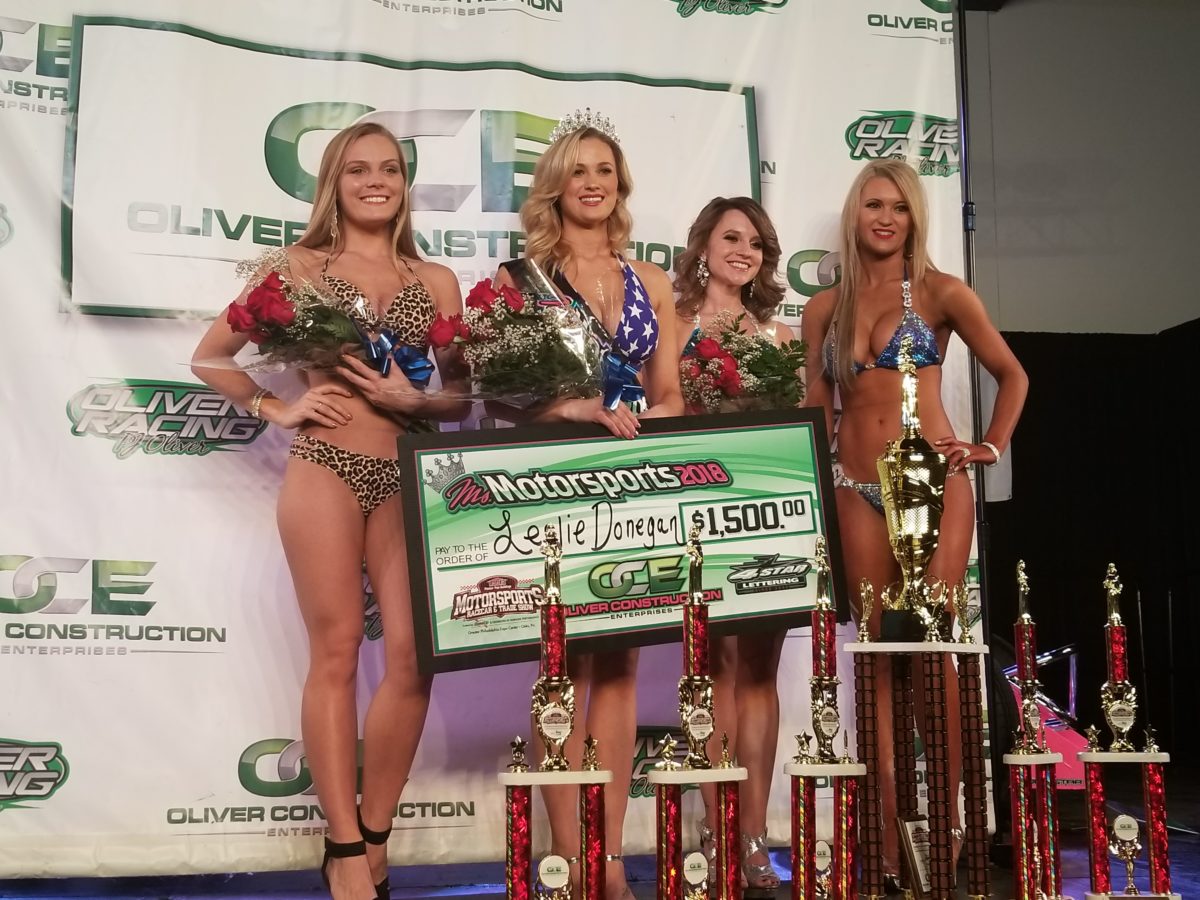 LESLIE DONEGAN IS CROWNED MS. MOTORSPORTS 2018; TONY STEWART, STEVE KINSER AND LARRY MCREYNOLDS GREET THRONGS OF FANS; TOP AARN 2018 NORTHEASTERN DRIVERS HONORED; ROGER GROVER NAMED JOE PRATT MEMORIAL AWARD WINNER
OAKS, PA Saturday, January 20, 2018 . . . Leslie Donegan was named Ms. Motorsports 2018 Saturday at the PPB Motorsports Race Car & Trade Show. The 23-year old beauty from Macungie, Pa., won the competition over 19 others in the event sponsored by Oliver Construction. The new Ms. Motorsports was crowned by Taylor Albert, the 2017 Ms. Motorsports.
Taylor Fullin, 20, of Danielsville, Pa., was the first runner-up. Amanda Nance, 26, of Ronda, N.C., and Andrea Cap, 27, of York, Pa., were co-second runners-up.
Roger Grover, 57 of Bordentown, N.J., was presented the Joe Pratt Memorial Dedication Award by Show Organizer Len Sammons prior to the beginning of the pageant. Grover has been a Show staff member for the last 33 consecutive Motorsports Show.
"I learned a lot from Joe, who was a friend," Grover said. "His people skills were amazing and his friendship meant a lot to me."
Matt Sheppard, David Gravel, Matt Hirschman and Mike Sweeney were presented plaques and cash awards by Area Auto Racing News as the 2018 season's biggest winners in Dirt Modifieds, Open Cockpit, Asphalt Modified and Asphalt Late Model. Sheppard, additionally, was acknowledged as the biggest winner of 2018 overall among all classes.
"It's going to be difficult to have the same kind of year this year and I did last," Sheppard admitted. "But that's what I am going to try my best to achieve."
Three-time NASCAR Monster Cup driving champion Tony Stewart, 20-time World Of Outlaws Sprint Car champion Steve Kinser and past NASCAR Crew Chief and current on-air personality Larry McReynolds were kept busy for hours signing autographs and posing for pictures with adoring fans.
Exhibitors were conducting a steady stream of business throughout the day and into the evening of the Show.
"We always do well at this show. This year is one of the best since we have been coming here," Keith Hoffman, owner of Hoffman Speed Supplies in New Tripoli, Pa. "Friday was good, today was really good."
ERK Wheel Repair, owned by Eric Kormann, was similarly impressed by the spending habits of the traffic flow.
"I've been doing this show for five years as an exhibitor, Kormann offered. "Today has been non-stop people. Some are my customers, but a lot of them just learned about ERK today."
The third and final day of the PPB Motorsports 2018 Show will be given over to the younger race fans with Kids Big Wheel Racing and the Little Ms. Motorsports pageant. Ms. Motorsports 2018 will crown the Little Ms. winner.
Tickets for Sunday, the final day of the Show, are $15.00 daily with children under 12 admitted free.
Dates for the 2019 Motorsports Show will be announced shortly.