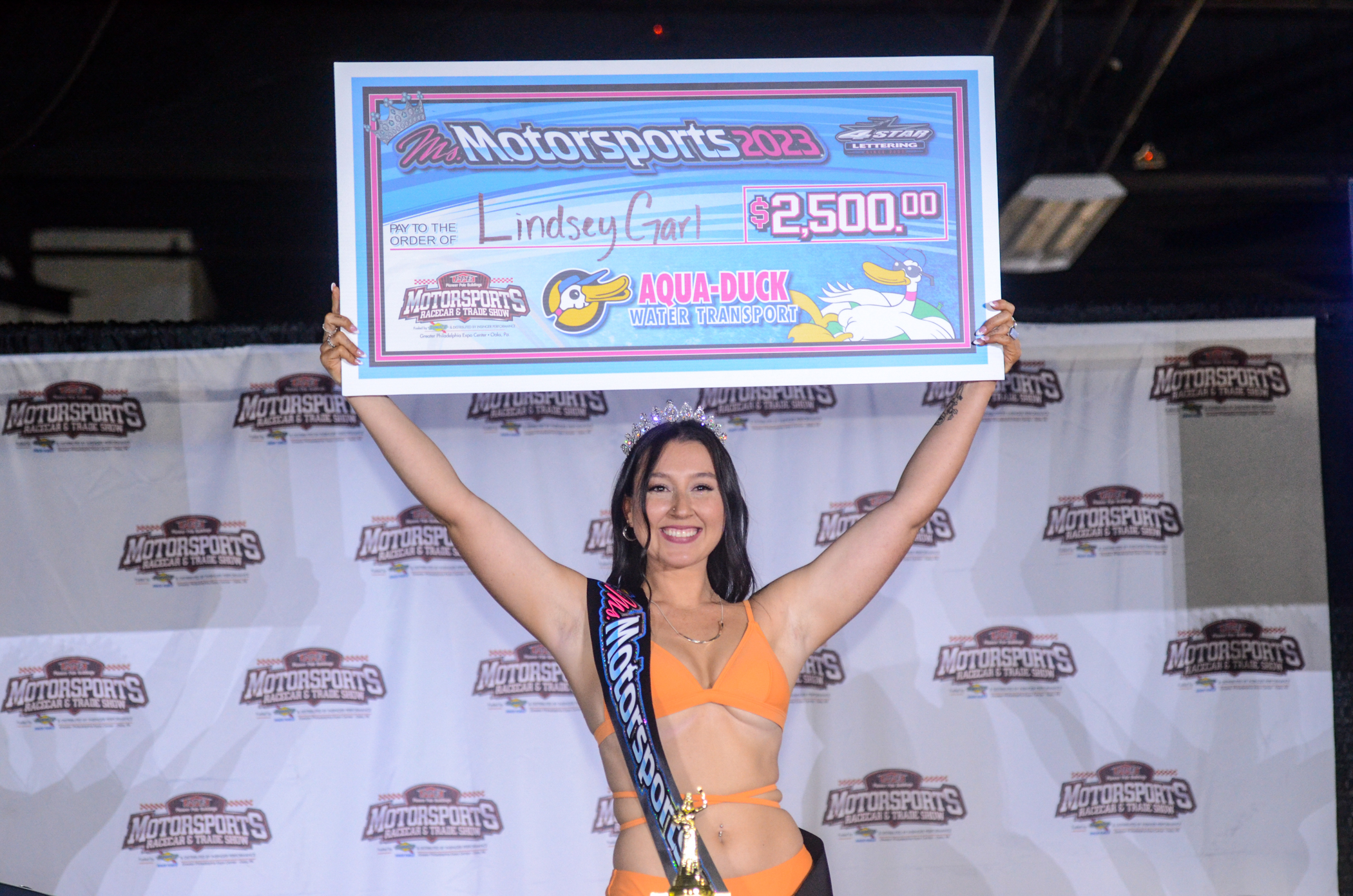 Oaks, PA (Jan. 20) –  Lindsey Garl was crowned Ms. Motorsports 2023 on Friday, Day One of the Pioneer Pole Buildings Motorsports Race Car & Trade Show in Oaks, PA.  Lindsey, of Reading, PA, was a popular winner among the 16 contestants in the Aqua Duck Water Transport-sponsored competition held at the Greater Philadelphia Expo Center in Oaks, PA Friday night.  Aqua Duck Water Transport owner Todd Baer, PPB Motorsports 2023 Show Promoter Len Sammons, and Ms. Motorsports 2022 Morgan Rochelle-Bealer made the presentation to the new winner on stage.
 The 24-year-old mental health advocate races at Shellhammer's Dirt Track as a Slingshot competitor.  In addition to her crown, the new Ms. Motorsports earned $2,500, and a poster deal worth $1,000.
 Dirt Track racing legend Billy Pauch and Funny Car Drag Racing legend Bruce Larson shared stories from their years behind the wheel with large and enthusiastic crowds Friday. Pauch was joined by fellow racers Jimmy Horton, Sammy Beavers, Fred Rahmer, Glenn Fitzcharles, and Wade Hendrickson on stage where stories were swapped in a lively roundtable discussion.
 "We all raced hard and respected each other, most of the time," Pauch laughed.  
 Pauch will return tomorrow for day two, Saturday, January  21 of the PPB Motorsports Show on stage. He will shre stories with many of his former car owners including Glen Hyneman, Leon and Joseph Liedl Jr., Al and Dave DeBlasio, Tony Sesely, DA Hanson, George and Marilyn Van Varick, Will Brown, Mike Heffner, and Zemco's Tommy Carl.
 Larson discussed the details of his Hall Of Fame NHRA Funny Car career with a big audience on hand.  He will also return to the Show Saturday to meet and greet fans.
Ryan Preece, recently announced NASCAR Cup full-time driver with Stewart-Haas Racing and their United Rentals No 41 Ford Mustang, will talk on stage at 3 PM about his new 2023 opportunity, his Asphalt Modified plans, then sign autographs from 3:30 to 5 PM next to the SHR United Rentals Ford.
 The winningest drivers of 2022, Matt Sheppard and Matt Hirschman, will be honored Saturday as the Area Auto Racing News winningest Dirt Modified and Asphalt Modified drivers respectively. Both will sign autographs after their presentation ceremonies that begin at 1 PM Saturday.
 The American Three Quarter Midget Racing Association (ATQMRA) will use the Motorsports Show to host its annual Awards Banquet starting at 2 PM at Booth 209-309.
 At the center of Saturday's PPB Motorsports Show activity are a variety of wide-ranging seminars. Topics include Sprint Car 101 with Jim and Chris Shuttlesworth, engine and fuel system maintenance from VP Racing Fuel's Fred Turza, Dirt Sportsman team development with five-time 2022 championship-winning crew chef Sam Wescott, race track media relations with Lincoln Speedway media coordinator Wayne Harper, racing photography tips from award-winning lensman Bob Yurko,  Dirt Modified Four Coil set up tips from Chuck Schmick of Behrent's Performance Warehouse and formerly of Eibach Springs, and the ever popular Basics Of Racing with long time Motorsports Show presenter Roy Anderson.  All seminars are free of charge as part of PPB Motorsports 2023 admission.
 Also on the Saturday schedule is the RAACE foundation Kids Big Wheel Races, competitions in three age brackets for prizes and trophies racing with Big Wheels supplied by the Motorsports staff.
 The PPB Motorsports Show on Saturday, January 21 opens at 11 AM (with a 10 AM early opening for early arrivals to view D-Hall exhibits).   
For more information about the Pioneer Pole Buildings Motorsports Race Car & Trade Show visit www.motorsportstradeshow.com