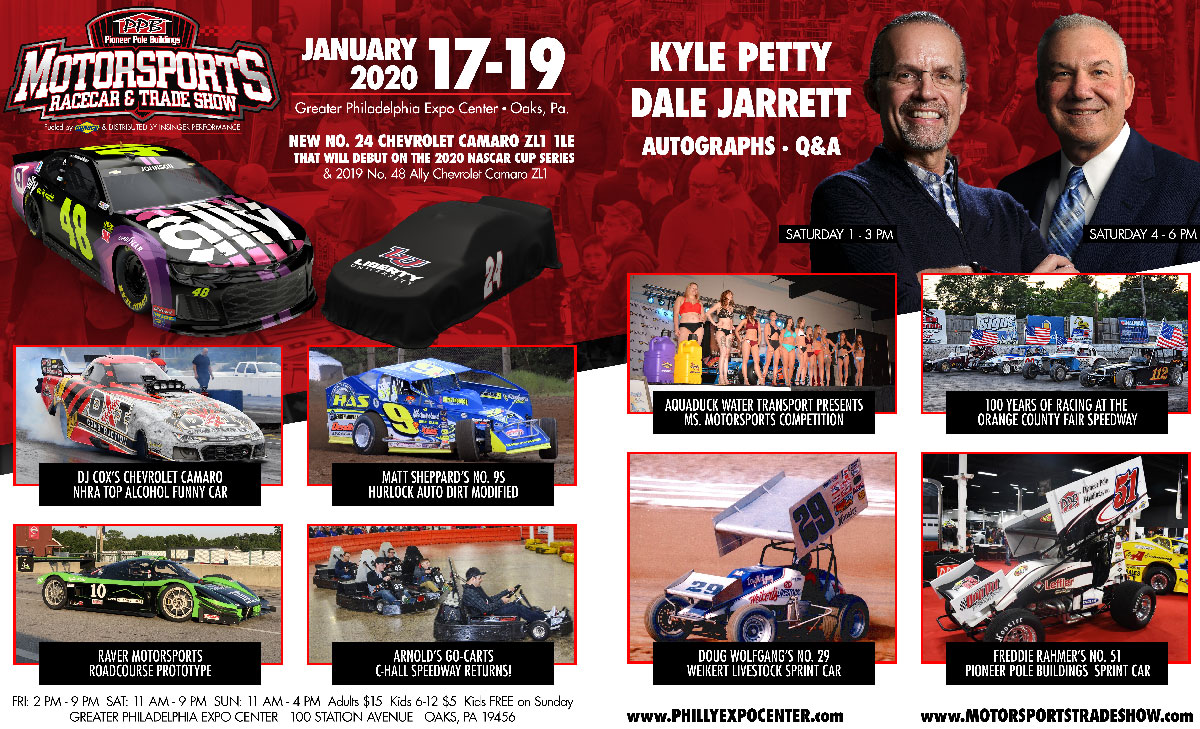 -SATURDAY, JANUARY 18th – SHOW HOURS 11 AM – 9 PM
10:00 AM: BOX OFFICE OPENS, PRE-SHOW EXHIBITS & INFORMATION (A-Hall Entrance Only) – The public is invited to enter the D-Hall Stage Area starting one-hour before the rest of the show opens. You must have a ticket for the show which opens at 11 AM. This will allow you easy entrance to the show when it is officially opened.
10:30 – 11:30 PM: AUTOGRAPHS: (D Hall) – Top 2019 northeast race winner MATT SHEPPARD will signing a special color poster given away free. Sheppard, the top dirt Modified winners, will be presented his special awards afterwards on the E-Hall stage. Fans are encouraged to bring the poster to a second autograph session at 6 PM when top divisional winners DANNY DIETRICH (Open Cockpit), MATT HIRSCHMAN (Asphalt Modified) and TOM FEARN (Asphalt Late Model) will sign there names to the poster!
11:00 AM: Show opens to the public.
11:15 – 9:00 PM: GO-KART RACEWAY OPENS: (C Hall Raceway) – Race your racing buddies on an oval track for bragging rights in fast electric go karts. It's just $10 a race. Tickets are available at the speedway location. You must be at least 12 years old and over 54 inches in height to take the green flag.
12:00 – 1:00 PM: AUTOGRAPHS: LEGENDS OF DELAWARE (Georgetown Speedway Display No. 516) – Drivers who made headlines for decades racing on the dirt in the state of Delaware will be gathered to sign autographs at the display featuring one of the state's most famous raceways. Those glory days of racing in the first state are now a part of a book authored by Chad Culver entitled "Legends of Delaware Auto Racing." Drivers signing the newly released book include Delaware's own RICKY ELLIOTT, CURT MICHAEL, RON KEYS, GARY TRICE and car owner KEN COVEY. Also signing will be Pa. driver KENNY BRIGHTBILL who won on the Syracuse mile for Delaware car owner Eugene Mills and the 2010 Delaware International Speedway Championship. "Legends of Delaware Auto Racing" will also be available at the nearby Coastal 181 booth before and after the signing.
12:30 PM: AWARD PRESENTATION (E-Hall Stage Area): Bruce Insinger from Insinger Performance and Sunoco Race Fuels will be making a special presentation to a local race track for outstanding services and accomplishments.
1:00 – 3:00 PM: AUTOGRAPHS: KYLE PETTY (E-Hall Stage Area) – Former NASCAR Cup racer Kyle Petty, now a popular NBC Sports racing analyst, will chat with show attendees and answer questions followed by a two hour autograph session. The son of seven-time NASCAR Cup champion Richard Petty, Kyle was an eight-time winner in NASCAR Cup competition. He appeared in 829 races, finished in the top five in the NASCAR standings five times. He earned 173 top-ten finishes.
1:30 to 3:00 PM: AUTOGRAPHS/ READING REUNION – Stop by relive a great area in racing while meeting many former Reading Fairgrounds stars including RUSS SMITH, GLENN FRITZCHARLES, JUNIOR MIKOSZ, BOBBY BRAXTON, ROD BREITENSTEIN, RONNIE LEIMBACH, LEE BRISAN, BUTCH GREEN, BRUCE YOUNG, AARON BROMMER, BOB EPPIHIMER, TOMMY LONG, DONN ESKEY, TIM HIGGINS, BOB JOHNSON, RONNIE PECK, DARREL HERMAN, RONNIE KEHL, RUSS LEWIS, TIM SCHELL and BEVERLY STRUNK who once turned laps around the historical 1/2 mile dirt speedway.
4:00 – 6:00 PM: AUTOGRAPHS: DALE JARRETT (E Hall Stage) – Three-time NASCAR Cup Series Daytona 500 winner Dale Jarrett, now an NBC Sports broadcast team member, will be talking to fans and then signing autographs. Jarrett, the 1999 NASCAR Cup Series champion, was inducted into the NASCAR Hall of Fame in 2014. He will do an interview and answer questions from show attendees before signing free autographs. The 63 year old son of NASCAR legend Ned Jarrett, Dale won the Daytona 500 in 1993, 1996 and 2000. He tallied 32 Cup wins during his 24 years on the Cup circuit including two wins in the Brickyard 400 at Indianapolis, in 1996 and 1999.
3:00 – 4:00 PM: ORANGE SPEEDWAY REUNION (C-Hall Reunion Area) – Special Autographs of top drivers who competed over the years at the Middletown, N.Y. speedway which celebrated it's 100th anniversary this year. This group which will include BRETT HEARN, MAT WILLIAMSON, ANTHONY PERREGO, JIMMY HORTON, MIKE GULAR, GARY BALOUGH, JERRY HIGBIE, CODY HIGBIE, TIGHE SCOTT, TOMMY MEIER, RYAN KRACHUN, TYLER DIPPEL, GRANT HILFIGER, TYLER BONIFACE, CRAIG MITCHELL, RICHARD SMITH, SAM MARTZ, SR. and SAM MARTZ, JR., LEROY AMY and ANTHONY FERRAIUOLO, IV.
3:00 – 4:00 PM: AUTOGRAPHS (Pioneer Pole Buildings Display – 104) – Billy Pauch, Billy Pauch Jr., Craig Von Dohren, Davey Sammons, Jonathan and David Swanson, Trevo Kobylarz, Matt and Trent Warner, Brandon Crockford, Christin Bruno, Brian and Kevin Hirthler, Brett Bieber.
6:00 – 7:00 PM: AUTOGRAPH SESSION (Area Auto Racing News booth No. 224) – Top 2018 northeast divisional winners DANNY DIETRICH (Open Cockpit), MATT HIRSCHMAN (Asphalt Modified) and TOM FEARN (Asphalt Late Model) will be signing a special color poster given away free. Those who arrive early can get top northeast winner Matt Sheppard's autograph on the same poster (Sheppard has to leave early to attend the Land of Legends Speedway banquet to receive his Modified track championship award).
7:00 PM: SPECIAL PRESENTATIONS (E Hall Stage) – Several important announcements will be made and awards presented.
7:30 PM: MS. MOTORSPORTS COMPETITION sponsored by Aqua-Duck Water Transport (E Hall Stage)