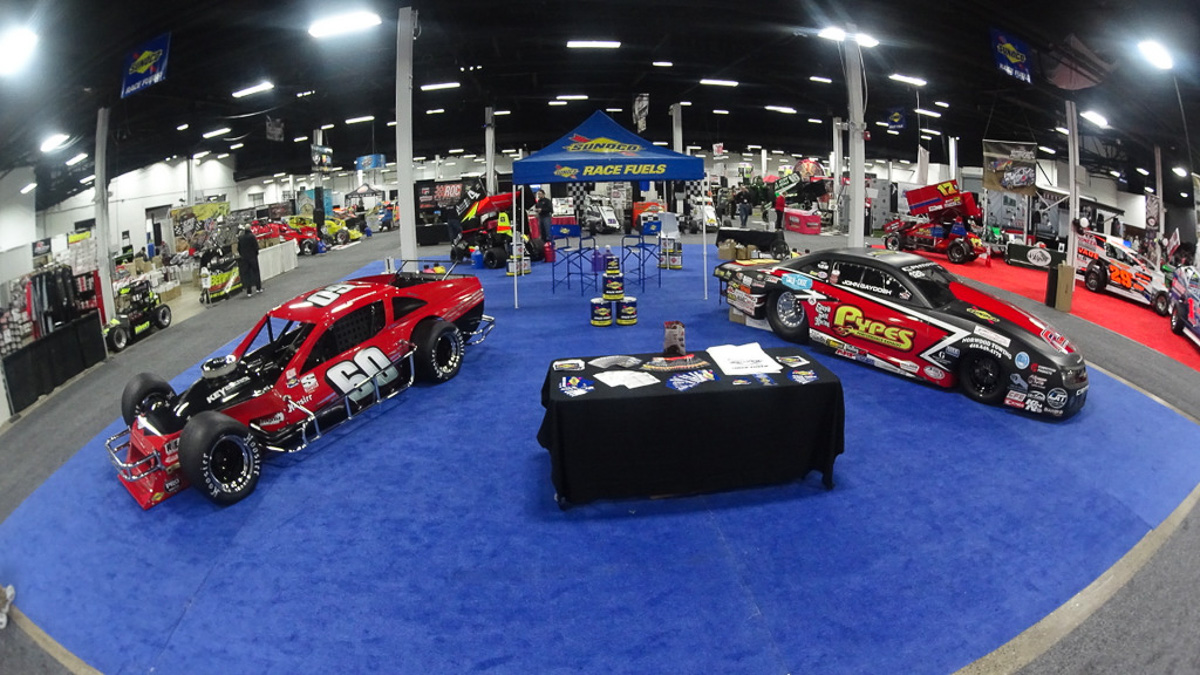 OAKS, PA JANUARY 14, 2018 . . . Variety could be a word to describe the Sunoco Race Fuels/Insinger Performance display at the Pioneer Pole Buildings Motorsports 2018 Race Car & Trade set to take place Friday, January 19th through Sunday, January 21st at the Greater Philadelphia Expo Center in Oaks, PA.
Five different racing vehicles, representing a variety of divisions of motorsports, will be part of the display along with the popular Sunoco Race Fuels Prize Wheel that give all attendees a chance to participate and have the chance to win small apparel and other items by spinning the wheel.
Hurlock Auto & Speed Sports of Hurlock, MD will be using their participation in the show with Sunoco to announce their team plans for 2018. Their dirt Modified will be part of the huge display at the front of B-Hall at the show.
Veteran Dirt Late Model racing talent Mark Pettyjohn will have his new Swartz by PJ1 race car on display. "We are really excited to have our new car on display," said Pettyjohn. "We are proud to have Sunoco Race Fuel as a marketing partner, their products are the best in the industry and results show it." In addition to be a winner at eight different tracks over the years, Pettyjohn was the 2013 Three State Flyers Dirt Late Model Series Champion and in 2017 won the Camp Barnes Benefit Race at Delaware International Speedway."
Philadelphia Racing Engine/Products will have their National Hot Rod Association Competition Eliminator Drag Car there. The I/SM Chevy Cavalier is driven by Richard Schonberger who is a member of the Schonberger family that has been involved in the sport for several generations and operate Philadelphia Racing Engines. Richard also competes in the I/A class within the NHRA Competition Eliminator division driving an Oldsmobile Cutlass.
Alex Mayer will attract attention with his Mayer Motorsports North America Formula 1000 entry out of Harleysville, PA. He is fresh off his 2017 National Championship effort.
Another attention getter will be the two American Racing Mower Association modified mowers one with Insinger Performance sponsorship and the second one sporting the Sunoco Fuels sponsorship. The spec fuel for the series is Sunoco Optima, unleaded non-ethanol fuel for 4-cycle small engines in Delaware, Maryland, New Jersey, New York and Pennsylvania. These machines are capable of reaching speeds of 70 mph. The Gas plus Oil Premixed fuel will be the featured product sponsor on the Insinger Performance mower. Also Insinger Performance is launching the Opitimal Premix Non Ethanol Fuel for 2 cycle small engines.
Teams involved with the display will have hero cards and handouts for attendees and will be able to sign them during the three day show.
More than 300 racing vehicles representing all forms of motorsports will be on display during the three days of Motorsports 2018, January 19-21 at the Greater Philadelphia Expo Center in Oaks, PA.
Headlining the show will be three time NASCAR Cup Series champion Tony Stewart along with 20-time World of Outlaws title holder Steve Kinser, rising Sprint Car talent David GraveL, FOX TV personality Larry MacReynolds and a number of local and regional racing talents.
The show, the 33rd annual edition, offers just about everything imaginable in motorsports and includes free seminars, Oliver Construction Ms. Motorsports Pageant, autograph opportunities and a large number of speedways and sanctioning organizations showing what is new for 2018.
For more information check in at www.motorsportstradeshow.com.