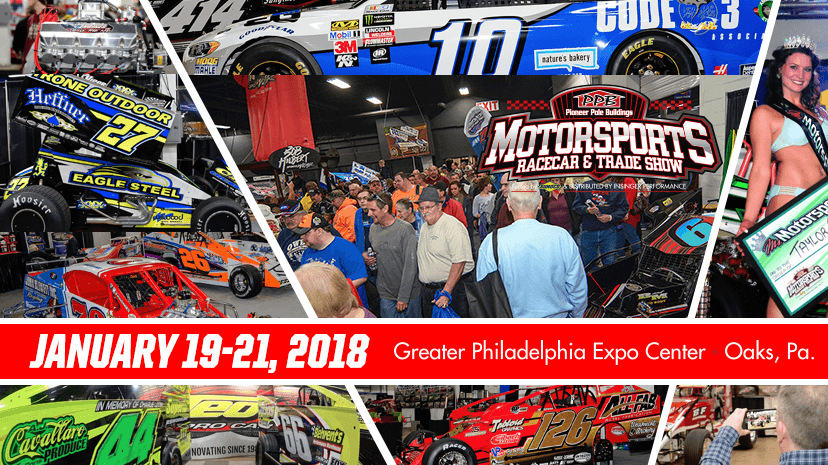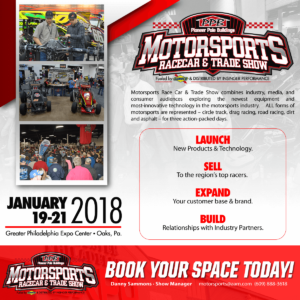 MAY 6, 2017 . . . Pioneer Pole Buildings and Sunoco Distributed by Insinger Performance will be back as sponsors of the Motorsports Race Car and Trade Show which is set to take place January 19-21, 2018 at the Greater Philadelphia Expo Center in Oaks, PA. This will be the 33rd year for the northeast's most popular show.
Exhibitors from the 2017 show are invited to renew, enlarge or move their space to a new location by June 1st. After that date all remaining 250,000 square feet of exhibit space becomes available on a first come, first serve basis. Those who were part of the last show were sent a new colorful 20018 show brochure this past week.
PPB Motorsports 2018 presented by Sunoco will again offer attendees the opportunity to see up close just about everything imaginable in auto racing. And many will be anxious to learn who the headliners will be. That information will be released as the show dates move closer.
Richard Petty, considered the King when it comes to NASCAR, attracted long lines of fans to hear his interview and collect his artistic autograph in January. Another huge attraction was the only American owned Formula One entry owned by Haas Automation.
"With all the attractions we offered, the free autograph opportunities, the appearance of Richard Petty and so much the 2017 show was a big success," said show promoter Len Sammons. "We are expecting this edition to be even a bigger success. You can bet our staff will be working hard to make it happen. The three day show will again fill all space available in the hall. We are suggesting that those planning to exhibit reserve their space as soon as possible."
Racers from all over the Northeast pencil in the Motorsports show date so they can talk first hand with manufactures and distributors of products they use. In 2017 all major builders of dirt Modifieds were on hand to exhibit and meet with customers. The show has also become known for its outstanding show special cash and carry prices on many ideas especially a long range of safety equipment from seats, to helmets and uniforms.
"The Greater Philadelphia Expo Center in Oaks is a great location in the center of the northeast racing world," said Sammons. "It's easy in and easy out with plenty of Free parking surrounding the Greater Philadelphia Expo Center. It has become a very popular location with show attendees and exhibitors. We welcome the opportunity to return the show to the Expo Center which continues to improve annually. The new HD Lights were a great addition last year."
Additional details on show plans will be released in the near future.
Again the popular Crowne Plaza will remain as the host hotel. Room reservations can be made at www.aarn.com or telephone 610.265.7500 and mention the special Motorsports 2018 deal of $94 per night. The hugely popular Saturday post-event party, a show tradition, will continue at the Crowne Plaza.
Information on being a part of the 2018 show can be had by visiting the show link at www.aarn.com, dropping an email to motorsports@aarn.com or telephoning 609.888.3618. A colorful show brochure giving all exhibitor information is available upon request.