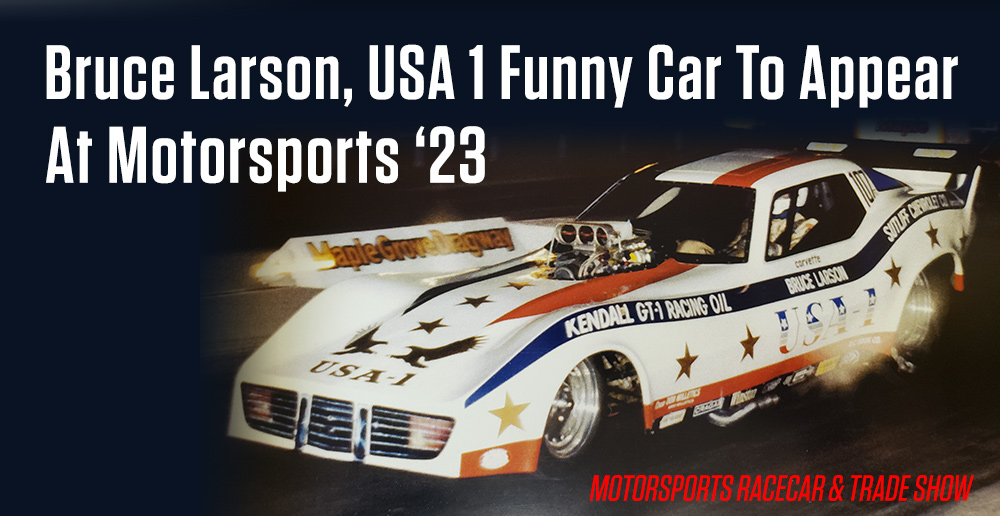 NEWS FROM LEN SAMMONS PRODUCTIONS
PIONEER POLE BUILDINGS MOTORSPORTS 2023 SHOW
FOR IMMEDIATE RELEASE, PLEASE, WITH OUR THANKS
NHRA Legendary Funny Car Driver Bruce Larson, USA-1 Funny Car At Pioneer Pole Buildings Motorsports 2023 Show
Oaks, PA – Bruce Larson, the man whose career in NHRA Funny Car racing  made both himself and the USA-1 designation household names in drag racing, will be at the 37th Pioneer Pole Buildings Motorsports Race Car and Trade Show in the Greater Philadelphia Expo Center.
Larson, of Dauphin, PA, will be available for autographs, photos and talk with fans during the majority of the show. He will also be on stage Friday, January 20 from 6:00 to 6:30 PM for a "one-on-one" with show attendees, shedding insight into his Hall Of Fame career.
The show stopper is likely to be Larson's unrestored red, white and blue 2,500-horsepower USA-1 1979 Corvette AA/Funny Car which is being featured in the ' Showcase' exhibit at PPB Motorsports all weekend.
The NASCAR Next Gen No. 41 Cup car, to be driven by Ryan Preece, will also be part of the Showcase.  On Saturday at 3PM Preece will be on stage talking about his full-time return to the Cup series this season and his past victory last season on the NASCAR Truck series. He'll then sign autographs next to the the United Rentals No. 41 from 3:30 to 5:30.
A Tribute to Billy Pauch Sr. will be conducted during the entire show with a showing of cars he drove and a special 50 foot wall of pictures. Two stage show tributes are also planned. Pauch will be available during the show on Friday and Saturday to sign copies of "THE LAST COWBOY: The Life and Times of Billy Pauch" which will be available for sale at the show.
Several of the Pioneer Pole Building sponsored race cars will be part of nearly 200 race cars of all kinds on display. Race cars will range from a small in size Quarter Midget driven by children to a Monster Truck. Circle track cars will be featured, but drag cars and land speed record vehicles will also be on display.
The Super DIRTcar Series booth will be graced with the No. 8H Modified driven on the circuit by Max McLaughlin. Northeast regional director Dean Reynolds will be on hand to answer questions. Two comprehensive Super DIRT Week tickets for the October Classic at N.Y.'s Oswego Speedway will be chosen from a free drawing.
Other speedways and organizations will  use the show to announce their plans for the new season.   A continuous offering of informative racer seminars will make Motorsports Saturday a very important day for racers.
On Friday at 8 PM the Aqua-Duck Water Transport sponsored Ms. Motorsports pageant will be held. Thanks to Aqua-Duck, this year's winner will receive $2,500 and the sw­im suit winner $500. Contestants are urged to enter in advance.
The RAACE Foundation sponsored Big Wheel races will be held on Saturday at 2 PM in three ages groups from 3 to 9. No pre-entry is needed, children with their parents must check in at the stage area prior to 1 PM. Big Wheels are supplied.
Show hours will run 2-9 p.m. on Friday and 11 a.m. to 8 p.m. on Saturday. Tickets are available at the door beginning one hour before the show opens. Free parking surrounding the Expo Center.
Motorsportstradeshow.com is your location for up to date event, autograph, show and seminar schedules.