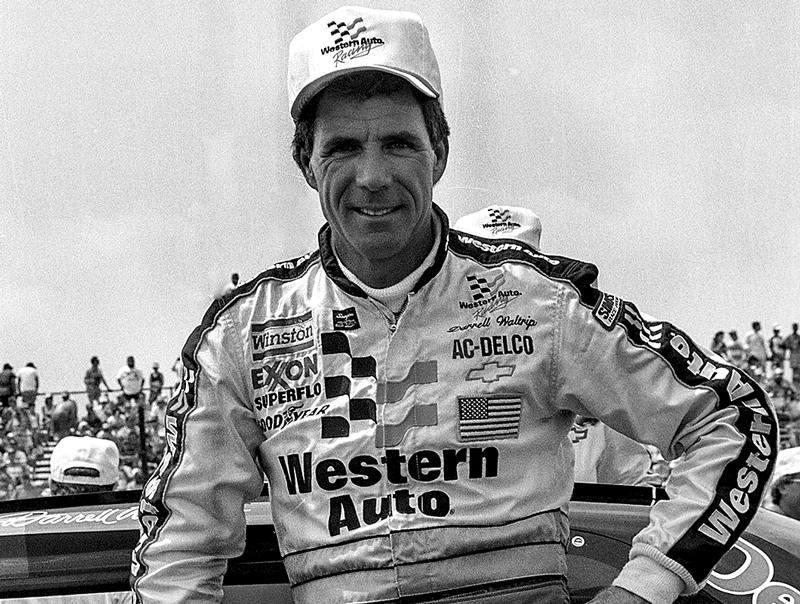 By HERB ANASTOR
It has taken several years to get this done, but NASCAR Hall of Famer and Fox TV personality Darrell Waltrip will appear at the 34th Annual Pioneer Pole Buildings Motorsports 2019 Race Car and Trade Show (Jan. 18-20) here at the Greater Philadelphia Expo Center.
Scheduled for an on-stage interview and two-hour autograph session on Saturday afternoon Jan. 19, Waltrip has long-been one of the racing stars that everyone has wanted to see at the show. And with that now being realized, his presence should be one that is long-remembered.
An interesting thing about Waltrip, though, is that some racing fans only know him as a very popular NASCAR TV broadcaster and analyst. But the 71-year-old native of Owensboro, Kentucky, is a lot more than that.
Like a lot of kids growing up in the late 1950s and early 1960s, a Go-Kart was a fun way to spend some time and as a 12-year-old in 1959 Waltrip began his racing career doing just that.
Then he and his father Leroy built a 1936 Chevrolet coupe and took it to the old quarter-mile-dirt Ellis Speedway in nearby Reed where the 17-year-old rookie spun his No. 6 into the third turn's outside concrete wall on his first lap of practice. And the result was a banged-up radiator, damaged right-front suspension and disheartened young driver.
Waltrip, though, was determined to do a lot better and soon found his winning ways at Ellis on Friday nights. But it was on Saturday nights at the 3/8-mile-asphalt Kentucky Motor Speedway in Whitesville where he really shined as after he changed his car's setup for that surface he was a regular winner there with the skills and smoothness that he developed racing Go-Karts.
As a result of his good showings, Waltrip got the seat in Harry Pedley's "Big 100" in KMS Late Model events and in the late 1960s driver/car owner P.B. Crowell encouraged him to move to Franklin, Tennessee, and drive his and Charles Reed's red and white No. 48 Chevelle Late Model Sportsman at the high-banked 5/8-mile Fairgrounds Speedway in Nashville.
Now the competition was tougher and purses were bigger but Waltrip quickly adjusted to the tasks at hand and won a record 67 feature races. Plus, he was a two-time (1970 and 1973) Fairgrounds Speedway Champion in his No. 17 Terminal Transport Chevrolet Chevelle; a car numbered in honor of his favorite driver, fellow NASCAR Hall of Famer David Pearson.
However, another thing happened at Nashville, which boasts of producing more NASCAR National Series drivers than any other track in America. Waltrip was not shy about publicity so that factor became a big help to the track in promoting its events.
At this time, the personable and well-spoken barnstorming short-tracker was earning his living wherever the money and competition was the best. And his first NASCAR Cup Series start was on May 7, 1972, in the Winston 500 at the 2.66-mile Talladega (Alabama) Superspeedway in his two-tone brown No. 95 Terminal Transport 1971 Mercury Cyclone whose chassis had been under the No. 11 Holman-Moody Ford that Mario Andretti used to win the 1967 Daytona 500.
In 1975, though, Waltrip began to run in NASCAR's Cup Series as a full-time driver and when all was said and done he won 84 races, tied for fourth on the all-time list with NASCAR Hall of Famer Bobby Allison. And that total includes 43 wins (1981-1986) and three (1981-1982 and 1985) championships driving the various cutting-edge No. 11 Chevrolets and Buicks fielded by NASCAR Hall of Fame driver and car owner Junior Johnson.
But winning series races was not all Waltrip did with the cars Johnson built in the small rural Wilkes County community of Ingle Hollow, North Carolina, for in 1995 he used the white and red No. 11 Budweiser Chevrolet Monte Carlo at the 1.5-mile Charlotte (N.C.) Motor Speedway to win "The Winston" – the inaugural NASCAR All-Star Race.
After his tenure with Johnson, Waltrip went on to drive the orange, yellow and white No. 17 Hendrick Motorsports/Tide Chevrolet to nine wins (1987-1989), including his only Daytona 500 victory in 1989 after which he celebrated in Victory Lane by doing "The Ickey Shuffle."
He then became a car owner and won five Cup races in his No. 17 Western Auto Chevrolet (1990-1998) before finishing out his career in: the No. 1 Pennzoil Chevrolet of NASCAR Hall of Famer Dale Earnhardt Sr. (March-July 1998); Tim Beverly's No. 35 Tabasco Pontiac (August-November 1998); and; the No. 66 "Big-K" Ford Taurus owned by Travis Carter (1999-2000).
Waltrip also competed in nine NASCAR Truck Series events (2002-2005) then he retired from racing after competing on July 22, 2006, in the Goody's 250 NASCAR Busch Grand National Series race at the half-mile Martinsville (Va.) Speedway where he started 41st and finished 28th on the lead lap in the No. 99 Dodge Charger owned by his younger brother Michael.
Among Darrell's notable NASCAR Cup Series victories are his record five in the Coca-Cola 500 at Charlotte and his 12 at the high-banked half-mile Bristol (Tenn.) Motor Speedway where he won seven straight times between 1981 and 1984. While his last triumph in NASCAR's premier series took place in the 1992 Southern 500 at the 1.366-mile Darlington (S.C.) Raceway; his only victory in NASCAR's oldest superspeedway race at "The Track Too Tough To Tame."
It is also fair to say that "D.W." usually knew the quick way around any track where he raced as in 809 Cup Series races (1972-2000) he claimed the pole position 59 times, a mark only bettered by four other drivers – NASCAR Hall of Fame members Richard Petty (123), David Pearson (113), Jeff Gordon (810 and Cale Yarborough (69).
He also raced in what was then NASCAR's Busch Grand National Series where he won 13 times in 95 starts, a record that includes five victories in the season-opening 300-mile race at Daytona International Speedway with the No. 88 DiGard Chevrolet (1978-1979) and with his own No. 17 DarWal, Inc. Pontiac (1983-1984) and Chevrolet (1989).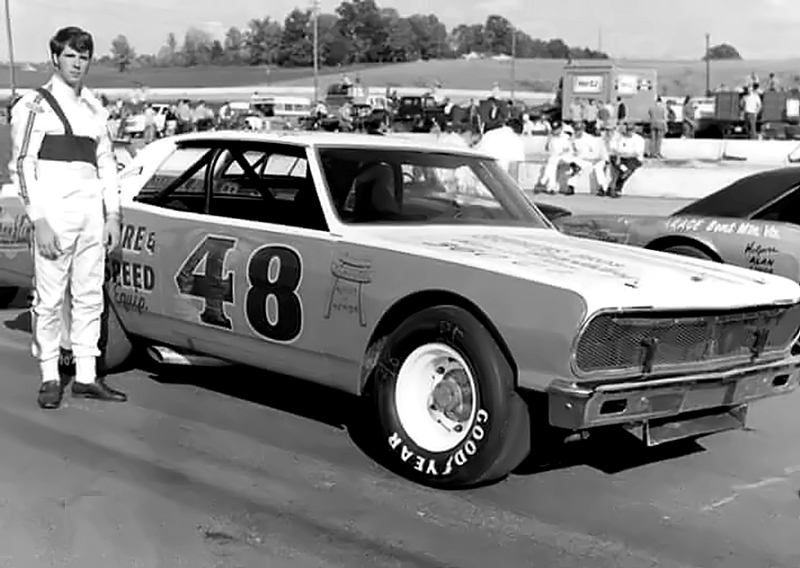 He was also the first driver to earn over $10 million in prize money and banked nearly $20 million in his racing career. And he won at least one NASCAR Cup Series race every year between 1975 and 1989.
Named in 1998 as one of NASCAR's Top 50 Drivers Of All-Time, Darrell also brought a new kind of personality to what had been a mostly-regional Southern sport. Surely, NASCAR had seen its share of interesting racers and down-right characters, but he was brash and frank and not what everyone easily accepted.
On the other hand, he was also identified as NASCAR's first "total package driver;" a skilled professional Stock Car racer who had his eye on all aspects of the sport, including the usage of the very cooperative media that was always on the lookout for something new and different even if those in power in NASCAR and in the Garage Area were not ready for that arrival.
As a result of Darrell's outspoken attitude, though, he earned the nickname "Jaws" from Yarborough. But it was also Yarborough who saw something special in the candid racer and later on when the fellow three-time (1976-1978) NASCAR Cup Series Champion and 2012 NASCAR Hall of Fame inductee was about to cut back on his own racing schedule with Junior Johnson, he privately advised his former nemesis to look into getting that ride.
Others also were paying attention to the kind of racer that Darrel was as he was smooth and fast and always running at the head of the pack and that kind of performance – as well as winning lots of races – easily made him a popular figure with the fans and the array of new sponsors that had become attracted to NASCAR Stock Car Racing.
Darrell also grew with the sport that he was helping to make grow and his talents on the race track helped him to gain further acceptance among his older rivals who were not used to such a different approach to many things. And as time passed by he became among the most-respected in his craft and fittingly – along with Petty and Earnhardt Sr. – was often consulted by fellow racers and the sanctioning body, itself, on matters affecting the sport and NASCAR.
What came next for Darrell when he retired from racing? Well, he easily transitioned into a TV broadcaster; something he had some previous experience doing even while he was an active racer. This time, though, he would be in the Fox TV booth and the first race that the network would ever telecast was the 2001 Daytona 500.
Ideally, this was a great place for Darrell to start his new career as he knew the track very well and won NASCAR's biggest race there. But as everyone who saw the broadcast knows, he and the rest of those covering the race – including race announcer Mike Joy and fellow analyst Larry McReynolds – unexpectedly had to deal with the unimaginable.
In the fourth turn on the last lap of the race, an otherwise ordinary three-car tangle ended the life of the much-beloved Dale Earnhardt Sr. And what made this situation even more unbelievable is that the two Dale Earnhardt, Inc. Chevrolets that "The Intimidator" had entered in the event – the No. 15 of Michael Waltip and the No. 8 of Dale Earnhardt Jr. – were heading for a 1-2 finish while the seven-time NASCAR Cup Series Champion was holding down the third position in his iconic black and silver No. 3 Richard Childress Racing Chevrolet.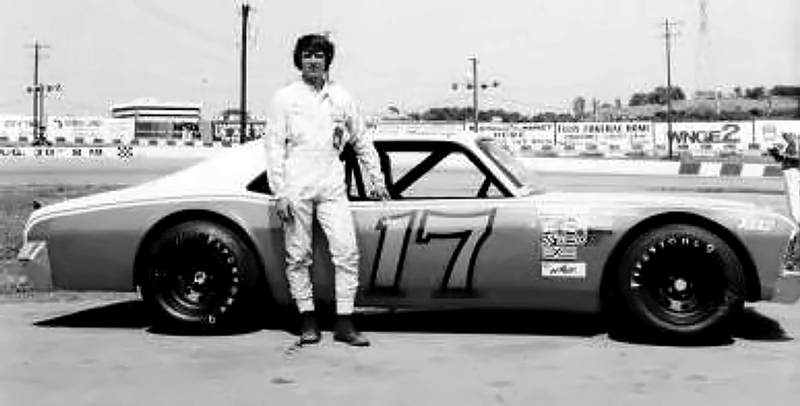 It was evident that what was playing out on screen was something that tugged both ways at Darrell for while he showed genuine excitement as his younger brother took the 500's checkered flag, he also expressed considerable concern as he looked from his broadcast location into the fourth turn where the unthinkable had happened to his friend.
In retrospect, broadcaster and world-class racer Darrell Waltrip was one who helped all get through a tragic situation that in many respects caused a major transformation in the sport itself. And his popular efforts TV efforts continue to be part of the NASCAR Racing Scene today.
There are also some other things of note about NASCAR's 1989-1990 Most Popular Driver.
Darrell's Christian faith is very important to him and his wife Stevie who have been long-time supporters of Motor Racing Outreach (MRO) which provides spiritual support to racers and their families and they will celebrate their Golden Wedding Anniversary this coming August 15.
In addition, the father of two daughters – Jessica and Sarah Kaitlyn – has always been an advocate for driver safety and that includes the use of SAFER Barriers [steel and foam energy reduction walls], full-face helmets and head/neck restraining devices.
The former professional short-track racer has also never forgotten those roots; something he proved in 1987 when he returned as a top NASCAR Cup Series racer to what was then-known as the Motor City Complex in Nashville and won the American Speed Association's prestigious All American 400 in his own No. 17 Tide Chevrolet Camaro.
While on the business side of things he owns Honda, Volvo, Subaru and Buick/GMC automobile dealerships in Franklin, Tennessee.
As far as Darrell's 2012 entry into the NASCAR Hall of Fame goes, 82 percent of the votes cast were in his favor. And part of what he had to say at his induction says a great deal about him.
"I've had a marvelous career . . . [but] this is not about me. It's not about what I've done. It's not about wins, statistics or anything else.
"Tonight it's about family; thank the good Lord that they're all here. It's about all my friends who came from miles away to be here, and it's about all the fans that are back there that have supported me all through the years, and it's about NASCAR and what they've been able to do with it sport, and I'm just glad I was able to be a part of it."
Then, sometime after his induction, Darrell explained a little more about this honor.
"You never know when you retire from one career what the future holds," he began. "I was known for putting on a helmet and driving a racer car and now I am known for putting on a tie and holding a microphone. I've been blessed.
"What make the NASCAR Hall of Fame special is that you are voted into it by your peers. Fifty men go into a room and discuss the work you have done and what you have contributed – what kind of results you have gotten – and they look at a lot of different criteria.
"There are people in that room that you have driven against that don't necessarily like you, there are media people that didn't agree with you and there are NASCAR officials that you've had disagreements with. But at the end of the day when they say you are Hall-of-Fame material, it's like icing on a cake.
"You invest; you invest; you invest," he added. "That's what a career is; investment. You put in the time; you put in the work; you put in the investment.
"You get the results and hopefully those numbers all add up and people agree you deserve to be in the Hall of Fame. It's as good as it gets."