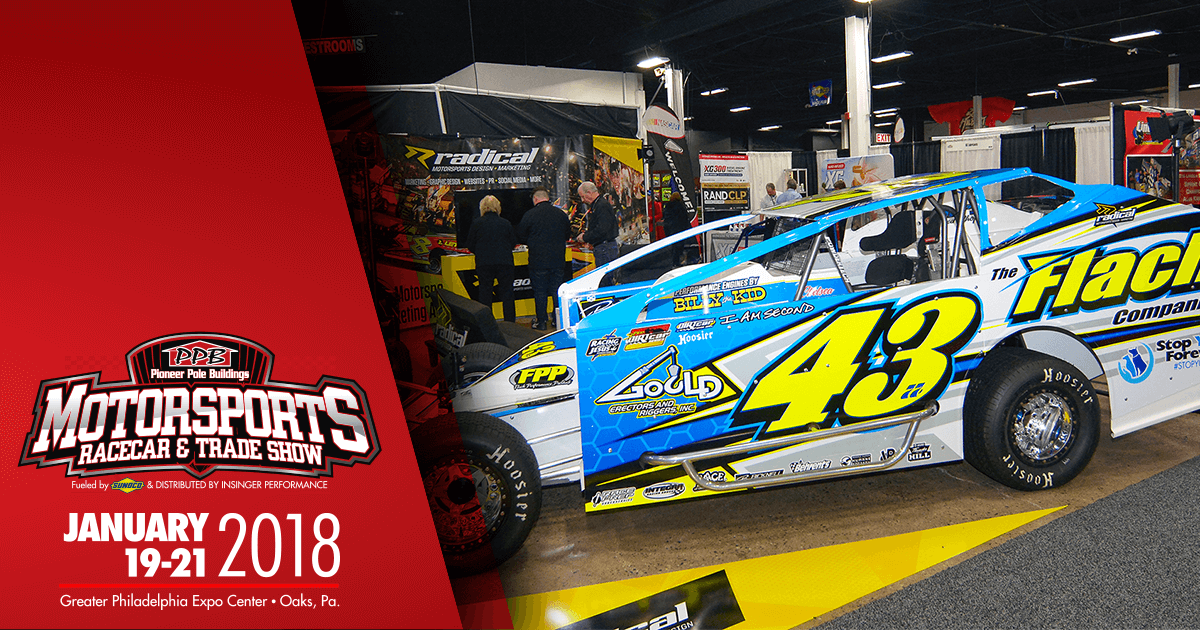 OAKS, PA OCTOBER 18, 2017 . . . Continuing with their efforts to keep everyone informed as to the latest news pertaining to the Pioneer Pole Buildings Motorsports 2018 presented by Sunoco and fueled by Insinger Performance show a new website, www.motorsportstradeshow.com, is now up and operating.
With the 33rd edition of the popular race car and trade show set to take place January 19-21, 2018, just three months away, there will be much happening in regards to show activities and the new website, designed for easy use will be jam-packed with the latest information as the show dates come closer.
"Those interested in having the latest show information, show hours, ticket info, announcements of added personalities will only have to go to www.motorsportstradeshow.com for updates," said show promoter Len Sammons. "We are always looking to make it easier for people to stay up-to-date and informed on the show. You'll also find everything you need to know to exhibit at the event."
The show is presented at the Greater Philadelphia Expo Center in Oaks, PA and all 250,000 square feet show display space will be filled with just about everything imaginable in motorsports including over 200 race cars of all kinds.
"Exhibitors are encouraged to share their show plans, specials, and announcements with us beforehand so we can build some buzz leading into the event," said Sammons.
With the Tony Stewart announcement that the three-time NASCAR Cup Series champion will be meeting with fans and signing autographs on January 20th (12 noon to 2 p.m.) interest is running high and will continue to grow during the weeks leading up to the show.
"The new website is the first step in introducing a more interactive show where fans and exhibitors have the opportunity to engage outside of the aisle ways," said website creator Jay Dugan of the Radical Design Group.
Exhibitors and those planning to be exhibitors have all the information they need on the new website to plan their participation.
"The show floor is nearly 75% full," said Sammons. "Companies looking to exhibit are encouraged to contact show manager Danny Sammons at 609-888-3618 for available show space before it's too late."
Exhibitors can register for space here
Information is also available by emailing motorsports@aarn.com. "Like" Motorsports Race Car and Trade Show on Facebook at www.facebook.com/MotorsportsTradeShow.