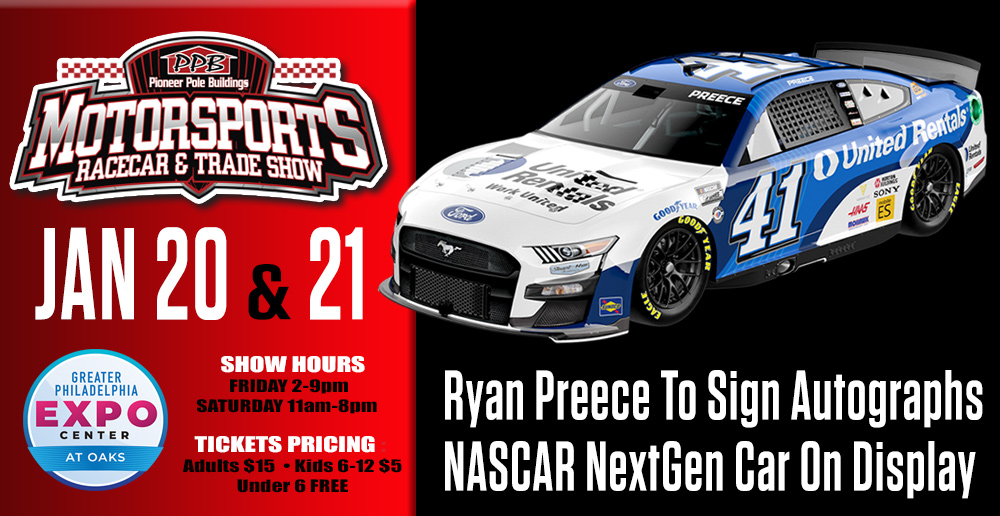 NASCAR Cup Driver, Modified Standout Ryan Preece Coming To Pioneer Pole Buildings Motorsports 2023 Show Sat., Jan. 21; New Ride, Stewart Haas No. 41 Show Car To Be Part  Part Of Expansive 'Showcase Cars' Display

Oaks, PA – NASCAR Cup series driver Ryan Preece will be making a special appearance at the Pioneer Pole Building Motorsports 2023 Show to meet and greet his legions of fans at the Greater Philadelphia Expo Center. The event runs on Friday January 20th from 2 to 9 PM and Saturday, January 21 from 11 AM to 8 PM.

Preece, who will drive full-time on the NASCAR Cup Series this year for Stewart-Haas Racing, will go on stage on Saturday of the show from 3 to 3:30 for an interview to outline his busy racing season plans. Following the discussion, Preece will personally meet and greet fans at his United Rentals No. 41 Next Gen Ford Mustang near the front entrance of A-Hall from 3:30 PM to 5:00 PM signing autographs. 

Preece, 32, of Berlin, CT., has 115 previous NASCAR Cup starts, 62 Xfinity attempts, and 12 Truck races. The former NASCAR Whelen Modified Tour champion, made the move to the Cup series after winning two NASCAR Xfinity races. This past year he won two NASCAR  Truck races.

While he now lives in North Carolina, Preece has not forgotten his roots. He will continue his 16-year NASCAR Whelen Modified Tour career when he can this year which consisted of 171 starts, 25 victories, a 2013 Series title and four title runnerup finishes, in 2009, 2012, 2014, and 2015.

Former NHRA champion Bruce Larson will have his championship winning Funny Car in the Showcase area as well. Larson will be available for autographs, photos and talk with fans during the majority of the show.

A Tribute to Billy Pauch Sr. will be conducted during the entire show with a showing of cars he drove and a special 50 foot wall of pictures. Two stage show tributes are also planned.  Pauch will be available during the show on Friday and Saturday to sign copies of "THE LAST COWBOY: The Life and Times of Billy Pauch" which will be available for sale at the show.

Several of the Pioneer Pole Building sponsored race cars will be part of nearly 200 race cars of all kinds on display. Race cars will range from a small in size Quarter Midget driven by children to a Monster Truck. Circle track cars will be featured, but drag cars and land speed record vehicles will also be on display.

The Super DIRTcar Series booth will be graced with the No. 8H Modified driven on the circuit by Max McLaughlin. Northeast regional director Dean Reynolds will be on hand to answer questions. Two comprehensive Super DIRT Week tickets for the October Classic at N.Y.'s Owego Speedway will be chosen from a free drawing.  

Other speedways and organizations will  use the show to announce their plans for the new season.   A continuous offering of informative racer seminars will make Motorsports Saturday a very important day for racers. 

On Friday at 8 PM the Aqua-Duck Water Transport sponsored Ms. Motorsports pageant will be held. Thanks to Aqua-Duck, this year's winner will receive $2,500 and the sw­im suit winner $500. Contestants are urged to enter in advance. 

The RAACE Foundation sonsored Big Wheel races will be held on Saturday at 2 PM in three ages groups from 3 to 9. No pre-entry is needed, children with their parents must check in at the stage area prior to 1 PM. Big Wheels are supplied.

Show hours will run 2-9 p.m. on Friday and 11 a.m. to 8 p.m. on Saturday. Tickets are available at the door beginning one hour before the show opens. Free parking surrounding the Expo Center.

Motorsportstradeshow.com is your location for up to date event, autograph, show and seminar schedules.